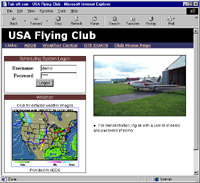 Tak-off is the premier Internet based aircraft scheduling system suitable for Flying Clubs, Flight Schools & Aircraft Owner Partnerships. No limit on number of users.

With this system you can throw away those cumbersome scheduling books. You'll no longer need to stop by a clubhouse to reserve an aircraft. Everything is done right on our website.

You'll be able to login quickly to view who else has made reservations, and with a couple mouse clicks, you can make your own reservation.

Only $4.50 per Aircraft, per Month!